This multileveled, open dungeon is full of gulas and their caiman minions, as well as labyrinthine stalkers. You'll also face juggernauts—massive horned creatures that stomp around just waiting for a fight.
Gulas are taking out federation forces by the dozens, and now these monsters have taken over Azarel's Labyrinth. An elite federation regiment, Kaia's Sword, is trying to seize the labyrinth and free any prisoners, but the gulas are numerous and well entrenched. Not only will you help Kaia's Sword with the gula problem, you'll also uncover a dark secret about a high-ranking federation officer.[1]
Ground Floor
Edit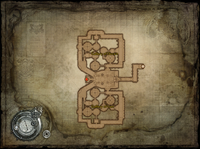 Azarel's Labyrinth Depths
Edit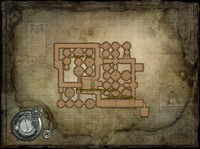 Notable BAMs
Edit
References
Edit
Ad blocker interference detected!
Wikia is a free-to-use site that makes money from advertising. We have a modified experience for viewers using ad blockers

Wikia is not accessible if you've made further modifications. Remove the custom ad blocker rule(s) and the page will load as expected.