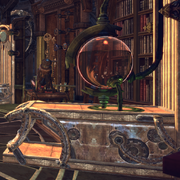 The following is a list of the items that are used in crafting that must be gathered (as opposed to being bought from NPCs).
General Crafting
Edit
The crafting skill Alchemy requires unique materials, both raw and refined, and therefore deserves a table of its own.
Note that the crafting skill Alchemy can teach players the ability to convert common runes to the corresponding level's uncommon form. However, there are no level 15 uncommon runes; conversion will result in having level 25 uncommon runes instead.
See Also
Edit
Ad blocker interference detected!
Wikia is a free-to-use site that makes money from advertising. We have a modified experience for viewers using ad blockers

Wikia is not accessible if you've made further modifications. Remove the custom ad blocker rule(s) and the page will load as expected.