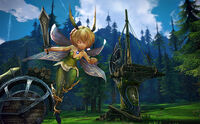 Faeries (species) are one of the enemies in the game TERA.
Ecology: Fey Forest, Jagged Coast, Eldritch Academy, Deepsound Woods
Variants: Furious Faerie, Faerie Insurgent, Faerie Renegade, Faerie Vigilante, Faerie Guardian, Faerie Rebel, Mistmoor Faerie, Faerie Seeress, Feisty Faerie
Attacks: Sword attack, arcane attack, en masse mob attack
Defenses: Defensive flying, both backwards and to either side of their foe
Weaknesses: Can only attack within a very short range—two meters or less—and are fairly fragile
Background
Edit
Some friendly individuals include Lillix at Faevine Vale Camp, and Lymei, Harsi and Aeir at Faerie Pond
Ad blocker interference detected!
Wikia is a free-to-use site that makes money from advertising. We have a modified experience for viewers using ad blockers

Wikia is not accessible if you've made further modifications. Remove the custom ad blocker rule(s) and the page will load as expected.