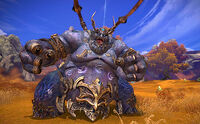 Kumases (species) is one of the enemies in the game TERA.
Variants: Kumas, Indolent Kumas, Torpid Kumas, Desert Lightning Kumas, Lithikumas, Frostbender Kumas.
Ecology: Found on both continents, most notably in Arcadia and Val Aureum province in Arun, and Essenia province in Shara.
Attacks: Fist strikes, ball lightning, breath attack, jump and smash.
Defenses: A kumas's only defense is a good (but slow) offense.
Weaknesses: May take up to 20 seconds to respond to being attacked; slow to turn when attacked from behind
Background
Edit
ChickensGallery
Edit
Ad blocker interference detected!
Wikia is a free-to-use site that makes money from advertising. We have a modified experience for viewers using ad blockers

Wikia is not accessible if you've made further modifications. Remove the custom ad blocker rule(s) and the page will load as expected.