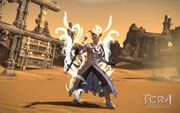 The mystic specializes in various mystic skills and highly depends on such in terms of combat in order to deal damage from long range, heal allies and attempt to avoid getting hit. Most mystic skills can only be used while a scepter is equipped.
There are currently 34 mystic skills which can only be learned by the Mystic, while 32 of them can be learned from a Magic Instructor,

 Sharan Bolt and
 Arun's Vitae are gained automatically upon character creation.
All of the skills (?) can be enhanced with a glyph with a cost of a certain glyph points up to 50 points, depending on the character's level.
| Icon | Name | Level | Glyphs | Description |
| --- | --- | --- | --- | --- |
| | Sharan Bolt | 1 | Power | Unleash a bolt of Sharan Energy at a single target up to 18m away. Does less damage to far-off targets. |
| | Arun's Vitae | 1 | Blaze • Restoration | Gather Arunic power to create a mote that restores X HP every second for 7 seconds and removes all harmful effects. |
| | Mana Infusion (Mystic) | 2 | Spirit • Haste | You regain 100 MP every 1 seconds for 20 seconds. Ends if you take damage or use a combat skill or item. |
| | Metamorphic Blast (Mystic) | 2 | Power | Project a cone of divine energy that damages nearby enemies. |
| | Thrall of Protection | 4 | Energy • Power • Fortification • Grounding | Summon a Thrall of Protection that draws aggro from monsters and makes melee attacks. Lasts 10 minutes or until death. |
| | Command: Attack (Mystic) | 4 | None | Aim at a target within 24m and press the skill button to command your summoned creature to attack that target. |
| | Command: Follow (Mystic) | 4 | None | Command your thrall to follow you. |
| | Metamorphic Smite | 6 | Energy • Influential • Haste | Damage targets within 3m. |
| | Teleport Jaunt (Mystic) | 8 | Energy • Blaze | Teleport a short distance in the direction of the camera faces. |
| | Corruption Ring | 10 | Trebling • Unfeeling • Influential | Drain HP from targets within 6m, storing it as a spiritual energy. The HP absorbed is proportional to how long you channel the ring. Use the Infusion Ring skill to release the stored energy. |
| | Retaliate (Mystic) | 12 | Power • Energy • Opportunity • Balance | Leap to your feet while attacking your target. You can use this skill only when knocked down. |
| | Thrall of Vengeance | 12 | Power • Fortification • Lingering | Summon Thrall of Vengeance that makes ranged attacks against your enemies. Lasts 17 second or until death. |
| | Volley of Curses | 14 | Lingering • Influential • Multiplicative | Inflict a curse that does X damage every 2 seconds for 10 seconds. Effect stacks up to three times. Does less damage to other players. Press the skill button once and mouseover to lock on to 1 target within 15m, then press the skill button again to curse all targets. |
| | Sonorous Dreams | 14 | Brilliant • Energetic | Put target briefly to sleep. Press the skill button once and mouseover to lock on up to 2 targets within 18m, then press skill button again to cast at your target. |
| | Arun's Cleansing Touch | 16 | Multiplicative | Purge all harmful effects from your allies. Press the skill button once and mouseover to lock up to 2 group members within 19m, then press the skill button again to purge all targets. |
| | Thrall of Life | 16 | Fortification • Energy • Lingering | Summon a Thrall of Life that periodically heals you and removes harmful effects. Last 12 seconds or until death. |
| | Titanic Favor | 18 | Multiplicative • Longshot | Immediately heal up to 2 allies for X HP, then heal an additional X HP every 1 second for 10 seconds. Press the skill button once and mouseover to lock on up to 2 group members within 19m, then press skill button again to cast at your target. |
| | Resurrect (Mystic) | 18 | Brilliance • Energy • Haste | When dead group members lie within 4m, you can restore life to the nearest one. |
| | Aura of the Swift | 20 | Brilliance | An aura emanates within 20m of you. Increasing group members' movement speed by 10%. Drains 30 MP every 2 seconds while active. Cannot be used with  Aura of the Merciless. |
| | Summon: Party (Mystic) | 22 | Brilliance • Energy | Teleport all group members within the same province to your side. You cannot teleport group members who are in other provinces. |
| | Regression | 24 | Energetic | End all beneficial effects on enemy targets within a 8m radius of you. |
| | Aura of the Unyielding | 26 | None | An Aura emanates within 20m of you, increasing group members' crit resistance by 30%. Drain 30 MP every 2 seconds while active. Cannot be used with  Aura of the Tenacious. |
| | Titanic Wrath | 26 | Lingering • Influential • Spread | Energy pours into you and non-hostile players within 8m. Increasing power by 20 for 25 seconds. |
| | Arun's Tears | 28 | Blaze | Gather Arunic power to create a mote that instantly restores MP. |
| | Mire | 32 | Energetic | Movement speed of targets decreases by 90%, but their balance increases by 100%. Effect ends when the target takes significant damage or is knocked down. |
| | Aura of the Tenacious | 36 | None | An Aura emanates within 20m of you. Restoring MP to all other group members every second. Drains 30 MP every 2 seconds while active. Cannot be used with  Aura of the Unyielding. |
| | Thrall of Wrath | 38 | Energy • Power • Haste | Summon a Thrall of Wrath with a powerful area attack. Lasts unto it makes 3 attacks or dies. |
| | Ancient Binding | 42 | Lingering • Numbing | Hurl a magical bolt forward 18m, briefly slowing the target by 50%. |
| | Vow of Rebirth | 42 | Energy • Altruism | Form a pact between you and a group member in front of you, who will resurrect if killed in the next 20 minutes. |
| | Curse of Exhaustion | 46 | Energetic | Curse your enemies for 20 seconds increasing their cooldown times for all skills by 20%. Effective only on other players. Press the skill button once and mouseover to lock on up to 4 targets within 18m, then press the skill button again to curse all the targets |
| | Aura of the Merciless | 50 | Brilliant | An Aura emanates within 20m of you, doubling the crit chance of group members. Drains 30 MP every 2 seconds while active. Cannot be used with  Aura of the Swift. |
| | Shara's Lash | 53 | Lingering • Fleetfoot | Cast a bolt of Sharan Energy forward 10m that explodes at a range or on contact, briefly stunning foes. |
| | Curse of Confusion | 56 | Lingering | Curse monsters so they tremble and flee briefly. Ends if targets is knocked down. Press the skill button once and mouseover to lock on up to 4 targets within 18m, then press the skill button again to curse all the targets. |
| | Warding Totem | 60 | Brilliant • Restoration | Summons a totem 10m in front of you which casts a warding effect on allies within 20m and restores X HP every 2 seconds. The Totem lasts for 60 seconds. |