50px

This article is a dungeon stub, an article too short to provide more than rudimentary information about a dungeon. You can help the TERA Wiki expanding it by editing.

An editor has expressed that this article is lacking more information about geography and plot related upon the subject dungeon than just a dungeon overview.
Necromancer Tomb is a 5-man dungeon that becomes available for entry to players at level 41.
The diabolical god Thulsa has corrupted the hero Kaidun, and their combined forces have wrested control of an important research facility from the Valkyon Federation. [1]
Level Range
Edit
Dungeon Denizens
Edit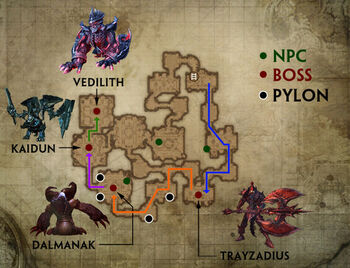 Normal Mobs
Edit
Small Mobs
Edit
Miscellaneous Mobs
Edit
Related Quests
Edit
References
Edit
Ad blocker interference detected!
Wikia is a free-to-use site that makes money from advertising. We have a modified experience for viewers using ad blockers

Wikia is not accessible if you've made further modifications. Remove the custom ad blocker rule(s) and the page will load as expected.