The Oblivion Woods is one of the locations in the game TERA. It is one of the zones in Arcadia.
This forested region lies to the north of Crescentia and the Valley of Titans. A major north-south trade route connects the human capital of Velika with the rich farmlands and timberlands of Arcadia province, but devan interlopers have choked off the flow of goods desperately needed for the war effort. Federation outposts don't have enough soldiers to maintain the trade routes and protect the citizenry. They need reinforcements, and that means you.
Sporewalkers and stonebeaks prowl the shady forest paths, but devans and their strange new allies will present a greater danger. Berzerad Cemetery, with its myriad undead, presents its own chilling hazards, and the basilisks of Bestial Vale offer a real challenge even for parties of level 20 adventurers.[1]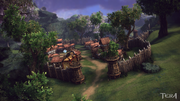 Major Towns
Edit
Sub-Zones
Edit
Landmarks
Edit
Level Range
Edit
Notable BAMs
Edit
Named Mobs
Edit
Instanced Dungeons
Edit
References
Edit