Quest:Shakan, Not Stirred
Talk

0
| | | |
| --- | --- | --- |
| | 50px | This article is an quest stub, an article too short to provide more than rudimentary information about a quest. You can help the TERA Wiki expanding it by editing. |
Shakan, Not Stirred
Start
Raeren
Level
40
Type
Story
Rewards
Experience
660,000
Objectives
Edit
Summary Upon Completion
Edit
Blightwood was the site where Shakan, the Beastlord is one of the gods of Arborea in The Exiled Realm of Arborea.
It is currently unknown if he was one of the original twelve gods or not. He was said to be Balder's ally and bodyguard, and after Lok's murder of Balder, he killed Lok at the Timeless Woods of Essenia, Shara continent. It is said that he despises Thulsa.
Shakan also is mentioned in a variety form of references throughput the game, such of an item being named after his possession Shakan's Bloodstone Necklace and in form of blessing, the Priest's Shakan's Blessing. slew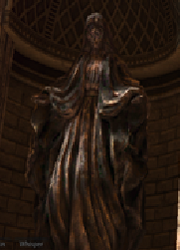 during the
Divine War
. Lok's blood tainted the forest and unleashed countless angry spirits.
The Mysterium constructed an amelioration agent that you used to push back the desolation.
You recovered Thulsa's Bracelet–a relic that could amplify Lok's energy–from the dread wraith, Gaist, but you could not use it without the power of Shakan.
Rewards: 
Edit
660,000 xp
Glove level 39 of your class