Ravenous Basilisk are one of the enemies in the game TERA. It is a variant of the Basilisks.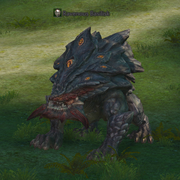 Monster Level: 46
Located in Feral Valley North region of Feral Valley of the Val Palrada district of Southern Shara; north of Frontera.
Background
Edit
Runes: Archrune of Titans
Consumables: Campfire, Arunic Panacea, Speed Potion
Charm level: 3
Equipment Tier: 9
Enchantment Crystal type: Pentants
Ad blocker interference detected!
Wikia is a free-to-use site that makes money from advertising. We have a modified experience for viewers using ad blockers

Wikia is not accessible if you've made further modifications. Remove the custom ad blocker rule(s) and the page will load as expected.