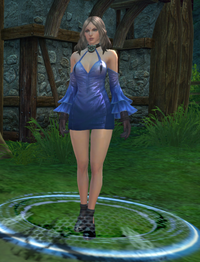 A skill is an ability that can be used by any character which is determined on class. Each class has their own unique skills, and there is only one skill that all classes learn, Retaliate (Level 12).
New skills can be learned every even level (e.g.: Level 2, Level 4, etc.), with the exception of two starting abilities which the player is given upon character creation. 
To learn a new skill, the player must either find an instructor related to their class, or go to their skills menu. There are only two types of instructors, Tactics Instructors and Magic Instructors.
Tactical Instructors teach
Archers
,
Berserkers
,
Brawlers
,
Gunners
,
Lancers
,
Ninjas
,
Reapers
Slayers
, and
Warriors
. Magic Instructors teach
Mystics
,
Priests
, and
Sorcerers
.
List of skills
Edit
Ad blocker interference detected!
Wikia is a free-to-use site that makes money from advertising. We have a modified experience for viewers using ad blockers

Wikia is not accessible if you've made further modifications. Remove the custom ad blocker rule(s) and the page will load as expected.